11/30/2008 11:33:00 AM Posted In
compromise
,
long distance relationship
,
love
Edit This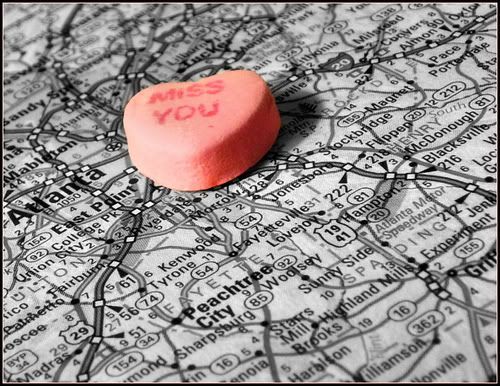 People ask me all the time, "How can you handle being with someone who lives so far away from you?" The answer, I guess, is simple: I love him. There's no better explanation, and that's what I tell everyone. I've been in three long distance relationships (well one was when I was engaged to someone in the Navy so you know how that goes lol), and currently in one now. You would think that by the first three not working out I would have learned my lesson & to avoid getting involved with the current. Well, I can't change the path that God has for my life. And to be honest, I couldn't imagine life any other way.
Most people will find it difficult to comprehend why I've made these choices. Why be in a long distance relationship? The answer is actually quite simple. Nobody wants to be in a long distance relationship. We all want to be close to our partners, but sometimes circumstances are beyond our control.
People tell me that long distance relationship do not work. They tell me that over time the relationship will fade. They tell me that long distance relationships fail because of factors like the lack of trust, lack of commitment and the obvious fact that partners cannot see each other. How can they expect me to believe it when I have been living it for years? While I do agree that most long distance relationships cannot work, I also believe that they can work if couples want it to.
I am sure there have been many talks on what makes a long distance relationship work. I cannot truly say that there is a fail-proof formula. Sometimes people have the best of intentions, they work hard on making their relationship work. But ultimately, the relationship falls apart and they cannot understand why. Truthfully, I don't know either. I'm not sure why one relationship works and why another does not. But I am a strong believer in commitment, communication, and COMPROMISE. If we have these in the relationship, then all else will fall into place. But that is just my view.

I'd like to believe that faith is another part of the formula in making long distance relationships work. No, I don't mean faith in a divine being. I mean faith in your own abilities and your own belief that the relationship will work. When you begin to doubt whether the relationship will work or not, most of the time you will find it won't work. Having faith in your commitment as a couple to make your relationship work is invaluable. It also proves how confident you are of your relationship and it's abilities to withstand obstacles.
But people will continue to say that long distance relationships do not work. And I will continue to prove them wrong. Ultimately, there are no fail-proof formulas to ensure that long distance relationships work. As a couple, you need to find the right formula between yourselves. With that being said, I believe that communication, commitment, and a whole lot of compromise sprinkled with a little faith can work wonders.

I laugh at people who complain about having not seen their boyfriends/girlfriends in a few days, or even a few weeks. I don't laugh to be offensive. I just find it funny. Because this is something i've endured for awhile and as the saying goes: "Absense makes the heart grow fonder." I'm sure I'm probably alone on this topic but what's your view on it?
*Miss Sophisticated*